Specialist IT Equipment Cleaning Services
Established in 1983, we are the UK's leading specialist cleaners of Desktop IT (screens, phones, keyboards, mouse) and Data Rooms.
We've eight regionally located branches – each with fully trained clean teams – based from Scotland down to South West England.
Working with Office Managers, Facilities Managers, IT Infrastructure Professionals and Data Centre Managers daily – techclean offers audited, tested and certified cleaning solutions applied to business critical pieces of IT kit.
About Techclean
Contact us
Your Desktop IT equipment (screens, keyboards, phones, mouse) - along with the staff who use the equipment - are the very components that keeps your company functioning/selling/supplying every single day. It therefore makes good business sense to keep Desktop IT clean, free from dust/dirt/bacteria and in good working condition.
Clean Desktop IT means less breakage & downtime, helps reduce staff sickness and reduces disposability (i.e throwaway of kit). Clean equipment works better, for longer.
Read more
A Data Room, Server Room or Comms Room is just about the most business critical room in any business. Without functioning systems and phones, business temporarily grinds to a halt. Dust & particle decontamination, server/cabinet/rack/cabling cleaning plus floor & ceiling deep cleans are part of techclean's thorough service which have attained ISO 9001 status.
We have a dedicated Data Centre clean team – experienced in working at large Co-Location centres and security sensitive sites.
Read more
Trained Clean Team
Our regional clean teams are specialists. Trained, regularly upskilled, DBS checked & earning at least the Living Wage status – they're part of techclean. Casual/Agency staff used only for large/rapid jobs.
Our Client List
Financial Services, Public Sector, SMEs – we adapt our service for clients with as few as 10 desktop workstations to Data Centres over 2000m2 in size.
Post Clean Products
We have a range of specialist branded wipes, sprays & hand sanitisers to leave for 'post clean' desktop use.
Less Waste
Clean Desktop IT means less downtime, helps reduce staff sickness and reduces disposability – clean equipment works for longer.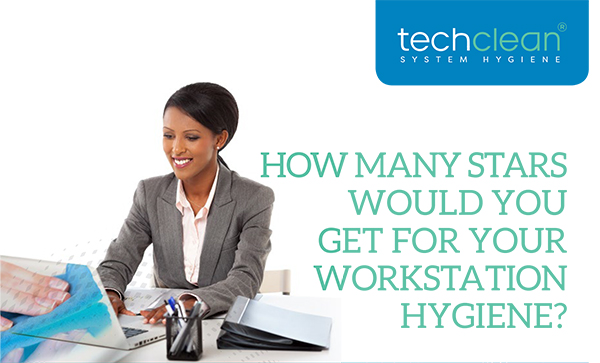 It's peak 'lurgy' season! With that in mind, it's more important than ever to consider workplace hygiene. A new report from workplace absence management specialists, FirstCare, shows that workplace absence is costing the UK...
Read Story
January is traditionally the time for making – and sadly often – breaking resolutions. But when it comes to employee well-being and creating a pleasant, welcoming working environment, taking just one decision this January...
Read Story
The festive season is a busy time for everyone but the hospitality sector at this time of year is uniquely pressured. An influx of guests, extra bookings and the uplift in demand for special...
Read Story
Contact Techclean
Request a quote or more information from Techclean on 01530 513305.
Contact Us