Specialist Office Computer & Electronics Cleaning
Our professional computer cleaning service is extensive enough to ensure electronic office items are indeed hygienically clean – as opposed to simply appearing shiny & clean! . 'High traffic' multi-user points – such as telephone handsets - need careful application of tailored detergents to ensure safe sanitising and avoiding equipment damage.
Contact Techclean on 01530 513305
PC cleaning for your office
IT and electronic equipment is just about the most integral hardware asset a business has. As such it is good common (and business) sense to keep these appliances clean, free from dirt & bacteria and in good working condition.
We'll spare you the countless detailed research stats on bacteria festering on workspaces from sneezes, sandwich crumbs and the like… news networks love running these features to pad out the programme on a slow news day. Suffice to say – and take our word for it – often staff would be statistically safer from infection by eating their lunch in the toilets rather working at the desk, answering the phone and banging out emails.
In summary, everyday workplace equipment that is handled by users routinely need more than just a 'duster & wipe down'.
Get in touch
Safe cleaning of office-based equipment
The detergents we apply won't harm the equipment or leak into the hard drives. In fact, the tailor-made products we apply actually leave behind a resin to provide on-going protection. It's one thing for a telephone handset to look clean… it takes a little more to ensure it is clean.
All facets of office-based electronic equipment can be cleaned. Telephone handsets & headsets. The screens. The mouse & keyboard. The PC tower beneath the desk. Laptops & tablets for those staff who are on the move at times. Safe Smartphone wipes can be provided. Conference call speakers. Plus, of course, items that office workers may well use; the copier & printer (nobody wants one of these to break!)
Credit card terminals, security keypads, presentation equipment, aircon controls…even light switches. All are 'high traffic' multi-user points – each with an electrical connection which needs a careful application of tailored detergents to ensure safe sanitising.
Get in touch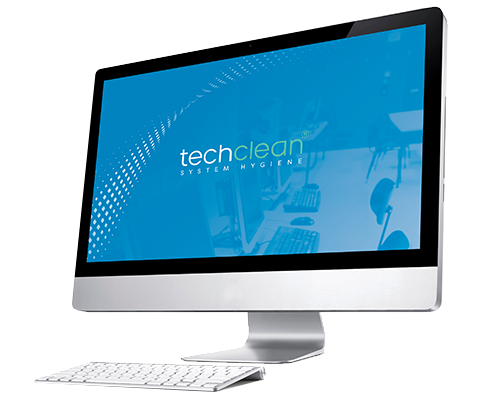 Why should Techclean visit your office?
We have been carrying out specialist IT equipment cleaning services in the workplace since 1983. Backed up by a national network of branches across the UK, we specialise in the deep cleaning of all types of electronic equipment found in an office:
PCs (keyboard, monitor, mouse & CPU)
Printers
Photocopiers
Mobile devices such as tablets and laptops
Scanners
Telephones
Security keypads
Presentation equipment