Call center computer cleaning specialists
Call centres are a typical, modern workplace area where coughs, sneezes and infections can sweep quickly around. Our computer cleaning services are thorough enough to ensure handsets, screens & headsets are actually clean – and not just look clean! 'High traffic' multi-user points need careful application of tailored detergents to ensure safe sanitising and inflict no equipment damage on your valuable hardware.
Contact Techclean on 01530 513305
PC cleaning in the call centre
IT and electronic equipment are just about the most integral hardware asset a business has. As such it is good common (and business) sense to keep these appliances clean, free from dirt & bacteria and in good working condition.
We'll spare you the countless detailed research stats on bacteria festering on workspaces from sneezes, sandwich crumbs and the like… news networks love running these features to pad out the programme on a slow news day. Suffice to say – and take our word for it – often staff would be statistically safer from infection by eating their lunch in the toilets rather working at the desk, answering the phone and banging out emails.
In summary, everyday workplace equipment that is handled by users routinely need more than just a 'duster & wipe down'.
Safe cleaning of office-based equipment
The detergents we apply won't harm the equipment or leak into the hard drives. In fact, the tailor-made products we apply actually leave behind a resin to provide on-going protection. It's one thing for a telephone handset to look clean… it takes a little more to ensure it is clean.
Sensible policies for staff safety & welfare are in place in almost all call centre environments. Good ethics mean staff will react better to sanitised workspaces and absenteeism due to contagious infections illness will be reduced.
Headsets, Handsets, screens, keypads, monitoring equipment, keyboards, PC towers – all typical items that we cleanse in call centres.
Audited work
Your tech equipment is delicately, professionally handled. We regularly audit our processes and are proud to be ISO9001:2015 and Safecontractor accredited.
Out of hours work
We can work alongside your staff during work time or attend out-of-office-hours.
Report form
We provide a post-job advisory notice, highlighting any 'need-to-knows' we've discovered on site.
Account manager
You'll have a designated on site point of contact (and off site account manager too).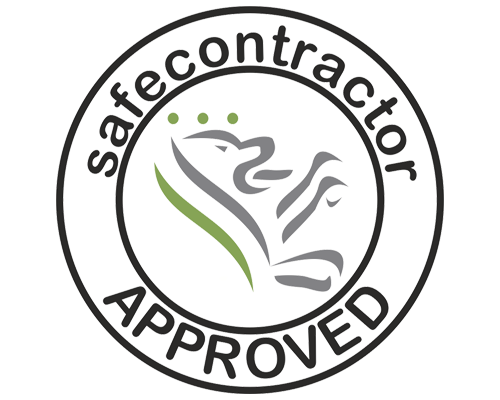 SafeContractor accredited
All of our Operatives are trained to a very high level of competence. We are ISO9001:2015 and SafeContractor accredited and we regularly audit our processes to ensure the highest standard of work.
Our unique cleaning fluids and equipment have been developed over the last 33 years to cleanse (and then to protect) our clients' IT equipment. We use a range of products that are specifically designed to provide customers with a high quality service.