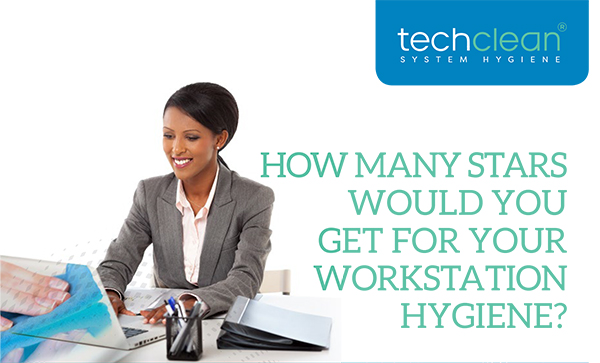 How many stars would you get for your workstation hygiene?
Posted on:
February 1st 2019 •
Posted in:
General News
---
Did you know 60% of illnesses are caught in the workplace, the majority of them from dirty computer keyboards and telephones? It's not surprising, according to a recent survey by consumer magazine Which?, they often harbour more germs than the office's toilet seat! Food for thought isn't it?
We get it, sometimes it's more convenient to sit and eat lunch at your desk rather than take the appropriate meal break. Given the amount of time you spend at your desks, they're bound to be full of dirt, grime, and your keyboard will no doubt be covered in remnants of food. Dust is also a major problem as it traps moisture, creating a perfect environment for bugs to breed.  If you knew that you could catch several bugs from poor workstation hygiene, including E. coli, you'd probably be more vigilant at trying to keep things clean.
Studies have shown that regular workstation cleaning can reduce staff absences by up to 55% as well as enhancing staff productivity. Also, bearing in mind 70% of equipment malfunctions are caused by dirt and dust, it will prolong the life of your IT equipment.
But whose got the time to clean during a busy working day, right? That's where Techclean come in! Contact your local Techclean specialist and enhance your cleaning regime today to reap multiple benefits and find out how we can help (save) you and your team. Your staff will thank you for it.
---
Share with others
[ssba]